..

Wade is participating in the Sp[OIL]ed Project which benefits the people of our Gulf coastline who've been devastated by the oil spill.

This letter from Protect Our Coastline explains the project.

"In May of this year, a Louisiana project began in response to the Oil Spill in the Gulf of Mexico. The sp[oil]ed project is a creative photography project that depicts people in various scenarios, with oil stains. Sp[oil]ed joined forces with ProtectOurCoastline.org, a Louisiana based non-profit, raising money to directly help the fisherman, shrimpers and wetlands devastated by the oil. ProtectOurCoastline.org is working in coordination with the Louisiana Wildlife and Fisheries Foundation, the Louisiana Seafood Board and the Friend of the
Fisherman fund and the money raised bypasses BP claim forms and federal government red tape.
Families are without food and electricity, a way of life has been destroyed, some have already committed suicide and precious wetlands that protect Louisiana from hurricane storms are ruined.
Louisiana native and platinum selling recording artist, Sammy Kershaw, is the official spokesperson for ProtectOurCoastline.org and became the first celebrity to pose for the sp[oil]ed project. He then worked with celebrity photographers Peter King and Kevin White to shoot artists such as Zac Brown, Kellie Pickler, Montgomery Gentry, Lane Turner, Wade Hayes and GAC-TV personality, Storme Warren.
With Sammy as the driving force behind the effort, the sp[oil]ed celebrity pictures will be framed and auctioned off, with all money raised going to ProtectOurCoastline.org. They will also be included in a coffee table book to be produced at the end of 2010 or beginning of 2011. In addition to public sales, 50 books will be asked to be autographed by every celebrity included in the book and auctioned off at events in 5 major cities across the country.
Several NFL players have also posed for the project and several PGA players, Broadway performers and actors will also pose and efforts are being made to get NBA and MLB players included as well.
A feature article on the project is upcoming in the September 12th issues of Country Weekly and it will also be featured in Nashville Lifestyles magazine."

..
On March 23rd, 2010, the Colon Cancer Alliance presented the 2nd Annual Stars Go Blue for Colon Cancer concert at the Loveless Barn in Nashville, TN. Hosted by Great American Country's Nan Kelley, the blue-themed festivities were promoted as featuring "intimate and rare acoustic performances by some of country music's elite songwriters; Rodney Crowell, Gretchen Peters, Mike Reid, Barry Walsh and Peter Cooper, along with special guests Mike Snider, Wade Hayes, Bill Miller and Brandon Rhyder."
The event was created by four-time Grammy nominee, Charlie Kelley (who currently plays guitar for Jamie O'Neal) who is a colon cancer survivor. His cancer was discovered near the time that his wife, Nan Kelley (well known as a host on GAC-TV) completed her cancer treatments for lymphoma.
The legendary Loveless Cafe provided food for the event. The music for the evening was fantastic.
Opening act was Mike Snider, well known for his humor as much as for his ability as a banjoist. He was National Banjo Champion at the age of 23. He was followed by an in-the-round set of Gretchen Peters, Wade, Peter Cooper, and Mike Reid. "In-the round" is a Nashville custom of artist/songwriters taking turns, playing acoustically, choosing to present their older, well known music or something they might be working on that day. Their set was followed by two Grammy recognized artists, Rodney Crowell and Bill Miller; Rodney for his Americana contributions and Bill for incorporating his Native American heritage in his musical messages of transformation through reconciliation.
Charlie Kelley and Peter Cooper closed the event with a hilarious novelty song they'd written especially for the occasion. This show provided outstanding entertainment for the very appreciative crowd.
Wade Hayes Interview at Colon Cancer Alliance by Leslie Alexander for the Nashville Country Club Site
The Stars Go Blue for Colon Cancer


..

A brisk, windy February morning is a good time to listen to Coffee, Country and Cody, on WSM-650 AM or at wsmonline.com. It's even better to be there. On location at the Country Music Hall of Fame there's plenty of seating for a walk-in audience, unlike the
usual broadcasting booth that is the show's home most mornings. The show is on the air for 5 hours each Monday through Friday.

Wade had the 7 - 8 am drive time slot on this Friday morning.
Bill Cody, a Country Music Hall of Fame DJ, hosts the show along with producer Charlie Mattos who also does weather and sports.






Beginning with "Dont' Stop" from Wade's first album through "What's a Broken Heart (for You)?" from his current album, "Place to Turn Around," Cody and company kept the morning crowd entertained with music, interview segments and banter.
You can hear Coffee, Country and Cody, each morning, Monday through Friday, from 5:30 am to 10 am on WSM AM 650, if you're in the Nashville area.
Around the world you can listen at
WSM Online.

..
Wade's new album, "Place to Turn Around," is finished. A pre-run of 200 has sold out already. It's an exciting album - one that evokes tears and laughter. There are so many good songs on it that deciding on a favorite track is difficult.
You can order yours now.
* God Made Me (to Love You)
* So What's a Broken Heart For You
* I Want To (written by Emerick/Cook)
* Right Where I Want You
* Drinking Thing (Gary Stewart)
* The Best Part
* She Knows Me
* I Wouldn't Know
* When the Devil Takes a Ride
* Good Day to Go Crazy
* Place to Turn Around


...
Wade and Trent Willmon will be joined by other artists in a benefit show for teenager, Kaylee Fambrough. Kaylee's mother and father were killed in the tornado that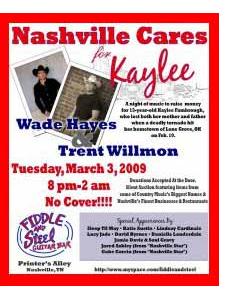 wrecked Lone Grove, Oklahoma on February 10th. Fiddle and Steel Guitar Bar in Nashville will host the event, beginning at 8 on Tuesday evening, March 3rd, and ending at 2 am on Wednesday morning. In lieu of a cover charge, donations will be collected at the door.
Contributions can also be made to a fund for Kaylee at the First National Bank and Trust of Ardmore, Oklahoma.

...
Wade a will again tour with Randy Owen this year as lead guitar player and Harmony singer. Look for them in:
Myrtle Beach, SC
Buffalo, NY
Burgettestown, PA
Grand Junctio, CO
Beckley, WV
Wellington, OH

...
Wade will particpate in the Country on the Beach benefit for the T J Martell Foundation, hosted by Montgomery Gentry. December 3 - 6th at the Cancun Beach Palace Resort, an all inclusive week-end.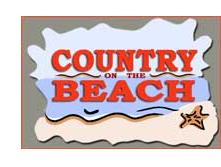 Wade will have an individual show, be part of the songwriter's event, participate in the celebrity bartending, and other events. We'll sure expect to see him playing beach volleyball.
It's a big week-end of sun, fun and sand!
Links for more information:
About the event - http://travelininc.com/CountryOnTheBeach.html
About the place - http://travelininc.com/BeachPalace.html
About the benefit recipient - http://travelininc.com/TJMartell.html
About prices and booking - http://travelininc.com/TJMbook-on-line.html


...
"Music and Motors," a TV show hosted by Wade is in reruns on RFD-TV.
Sundays, 6:00p - 6:30 pm (Central time)

RFD-TV Channels in the Nashville Area:
Nashville Comcast - 136
Direct TV - 379
Dish Network - 231
March 1 - "New Season: New Hope." NASCAR back in business
March 8 - "On the Road Again." Travel with race hauler and stage crew.
March 15 - "The Instrument: Guitars to Race Cars from Stings to Struts."
Building some of the greatest guitars by Gibson; stars Danielle Peck, Ritchie McDonald and Jeffery Steele on their first instrument
Check with your local internet provider for your station and time.