...
Wade recently sent an online Christmas card to his fans. Click here to view it.
(December, 2007)

...
Join the New Year's Eve fun at Trout's in Bakersfield, California. Their Blackboard Stage will host Wade and Aaron Till along with local band, Terry Hanson & the Westerners. And for double pleasure, they'll also be there on December 30th. Tour


...
Wade joined ace songwriters, Kelly Loveless, Billy Lawson, and Larry Boone for Glencoe Alabama's First Annual All-Star Celebration.
The foursome has authored a combined total of 21 number one hits. The writers donated their performances to this charity event promoted by the First Fruits Foundation and the Gadsden Chamber of Commerce. The First Fruits Foundation benefits children in smaller communities. The foundation was established when several individuals who'd been supporting youth charities on a singular basis decided they could be more effective if they combined forces. In addition to Saturday's performances a silent auction was held on Friday night. Proceeds from the celebration will go to First Fruits Foundation and to fund the building of a youth center in Glencoe.
The festival was a full day event with local talent starting early and continuing throughout the day.
The songwriter portion of the event began with Loveless, Lawson and Boone doing a round robin of their hit songs. When Boone began his "On a Good Night," Wade joined him on stage to complete the chart-topping hit that he'd recorded. Wade continued with several of his hit songs. Highway 101 closed out the evening's performances.
Gadsden's television channel WJXS (W24) featured a short video interview with Larry Boone talking about the foundation and Wade telling of his support for the causes the foundation serves.

...
Wade's management has set up an official Myspace page for him. Management will be handling the details.
Wade Hayes' Official Myspace Page

...
Wade will be touring with Randy Owen of Alabama fame, as the lead guitarist and harmony singer. The Nashville Star Band is part of the ensemble, too. All the details aren't in yet, but they will be appearing at diverse locations across the nation - Alabama, Arizona, Georgia, North Dakota, Iowa, Pennsylvania, Tennessee, Wisconsin. Currently, there are 12 dates planned.

...
For the second year, Wade was a featured performer at Opryland's "Fiddlin', Brewin', and Bar-B-Q'n." Wade was on-stage last year for the inaugural event, a competitive cook-off for Bar-B-Quers from around the country. The stage, set-up under a large pavilion, looks out on a sea of RVs and 5th-wheelers, each with its own unique set-up for cooking and competing. Wade had a master list of musicians backing him. Pictured are fiddler Rob Hajaco and steel-player Mike Johnson along with Wade. Country Weekly magazine (September 25th issue) featured Wade's other activity for the day, preparing a brisket for barbecuing. The recipe, along with a picture of Wade has been added to the Country Weekly web site.
Smoked Beef Brisket with Wade Hayes

For concert pictures and reviews follow these links:
2006 Fiddlin', Brewin', and Bar-B-Q-in'
2005 Fiddlin', Brewin', and Bar-B-Q-in'

...
Wade won the Michael Peterson Celebrity Tractor Race held in downtown Nashville during the CMA Music Festival. The course was laid out with hay bales and traffic cones. During the race-off to break a tie, he dropped 2 seconds from his initial time to secure the trophy; his 54 seconds bested nearly thirty racers. An autographed New Holland Boomer compact tractor will be auctioned on E-bay for the benefit of the artists' chartities. Wade was racing for Habitat for Humanity.
For pictures and a review check the Gallery page.
For a news story on this event, see

...
Wade wowwed them at the Country Fever Festival in Pryor, OK. Called in to substitute for John Corbett, he more than ably filled the slot between Trent Willmon and Carrie Underwood on Thursday's show. For the Tulsa Star review and an interview held before the festival, follow these links.
Tulsa Star Review
Tulsa Star Interview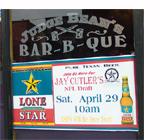 ...
Wade performed at the standing room only NFL Draft Party for Jay Cutler. The Vanderbilt player, one of the top 3 quarterbacks in the country, became a Denver Bronco when the club traded up to secure him as the 11th pic of the draft. The dual rooms at Judge Bean's BBQ were a great setting for the event. While television crews, Cutler, his family and his agent held a tight court in Judgement Hall, waiting for the fateful phone call, fans and followers watched the wall mounted screens in the restaurant. After the joyfully received draft selection, the crowd shared the two large cakes - a celebrate the draft cake and a 23rd birthday cake for Cutler. The revelry continued with two hours of great Wade Hayes music.



...
Wade and Aubrey Bean, "The Judge," visited the TN Mornings show on Fox 17 on Wednesday, April 19th, to promote Judge Bean's Bar-B-Que First Annual Testical Festival to be held on April 22nd. The picture is from their last appearance in February. The show airs on Comcast Channel 6 in Nashville from 6 to 8 a.m. Kelly Sutton and Charlie Chase are Hosts.
To see the video clip, follow this path.
FOX17 TN Mornings Video Archives > February 8.
For more on the Festival, follow this link.
Judge Bean's First Annual Testicle Festival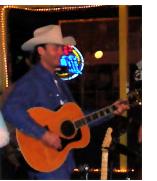 ...
Saturday nights at the Judge's will feature Wade through the month of March. The music runs from 7 - 10 pm with a couple of short breaks. The band members may change from week to week, but they're all top notch. The evening features Wade's hits and cover songs of the great traditionalists - lots of Merle, some Willie, Waylon, Bob Wills and others.
Keep an eye on the tour page for updates. It's always wise to check before you travel.
Photo Credit: Vito Carena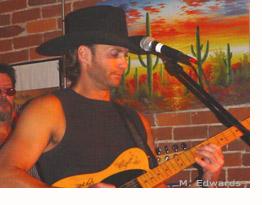 ...
November has been warm-up month for the big doings in December. The Judge is having a Christmas Party on December 9th and a Texas Style New Years Eve party on the 31st. By then, the new Judgement Hall will be spiffed up and ready to welcome a crowd. There'll be a BarBQ buffet, beer and bubbly, and great music. The Judgement Hall Stage will be the showcase for opening act Amber Leigh White with Wade as the featured performer. Click here for the details.
Thanks to Michelle Edwards for the picture from the November 11 appearance at the Judge's.

...
The 3rd Annual Country Music Cruise was a blast. Here are the the times that you can see some of the footage that Storme Warren and his crew shot on the cruise. It's on "Country Music Across America" on GAC (Great American Country.) These times are Central Standard Times.
Eastern will be an hour later. Mountain should be an hour earlier.

Nov 12 11:00am
Nov 12 08:00pm
Nov 12 11:00pm
Nov 13 02:00pm
Nov 13 09:00pm
Nov 14 12:00am
Nov 14 09:00pm
Nov 15 12:00am

Check the Gallery Pages for review and pictures.

...
The Bluebird Cafe, the flagship club for Nashville Writer's Nights, hosted a benefit for Katrina survivors. Wade joined Buddy Jewell, Britton Curry, Bobby Carmichael, and Rivers Rutherford for a round robin style performance before a very receptive packed house. See the Gallery Page.
.

...
On a recent Saturday night, Wade dominated the stage at the new Judge Bean's location in downtown Nashville.
Backed by fiddle, steel, guitar, bass and drums, he stirred the packed crowd with his distinctive, delightful baritone and his "fast and fluid chicken-pickin' style" of guitar playing.
He served up a great medley of Merle, Willie, Waylon, and Bob Wills standards, as well as his own top crop of hits.
There's a big treat in store for September.


In addition to the standards, he'll be trying out some of his new material. Check the Tour page for the details. The picture is courtesy of Kelly Sanders.



...
Wade and Randy Lanham headlined the recent first annual Fiddlin', Brewin', and BBQ-N event at the Opryland Pavilion in Nashville. Cooking contestants in the Kansas City Barbecue Society sanctioned event were awarded a total of $20,000 in prizes.


Pictures and review are on the Gallery page.

...
A wall to wall standing-room-only crowd attended the Wade Hayes Fan Gathering at Judge Bean's in Nashville, TN.
It was a great afternoon. Wade performed for an hour, doing material he had recorded, covers of a couple of Merle Haggard tunes, and new ones that he'd penned, but were as yet un-recorded.
For a review, pictures and the playlist see the Gallery.



...
A full roster of artists took turns on the stage at Judge Bean's in a benefit for Jeannie Kinney on May 24th. Jeannie battles Friedrieich's Ataxia, a progressive disorder of the nervous system and muscles. Wade, along with Trent Willmon, Clint Ingersoll, Luke Bryan, Teresa, Eric Church, and Brandon Kinney kept the music going for the packed house. A silent auction added to the proceeds.
A couple of guitar straps made by Trent produced some lively bidding. One was hand-tooled leather, the other a rattlesnake skin complete with rattles, that Trent declared, "I crawled under the house to get him." He's wearing the rattler in the picture. Open bidding for a couple of backyard BBQs that would include a private show by Clint, Trent and Wade raised $3400. A very successful evening by any count.

...
Judge Bean's was the scene for a full evening of music and fun - the pre-cruise meet and greet for the 3rd Annual Country Music Cruise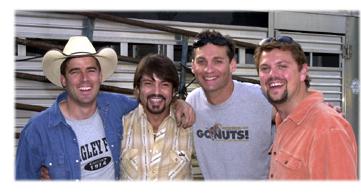 Jon Randall, Jeff Bates, Trent Willmon and Wade provided those in the house and the listeners to

with a lively set of great music. Later in the evening
Wade did a marvelous mix of traditional country songs. The 4 Hunks pictured are performers Trent Willmon, Jeff Bates and Wade. With them is Storme Warren, the host of GAC's
. He'll be filming on the cruise for a broadcast in November. Picture credit goes to Nancy of King's Cruise Line. The cruise is nearly full. If you've been hesitating , decision time is NOW! Check the Tour Page for information.

...
Wade's birthday was celebrated
April 20th at Judge Bean's BBQ with some fine picking and singing and birthday cake for the whole crowd. Wade received a book of e-mail greetings from his fans along with a batch of regular birthday cards.
The Judge watches as Wade carries one of the cakes to the table. For pictures, review and the playlist, see the Gallery.
...
Wade is joining Trent Willmon, Shelly Fairchild, Jon Randall and Jeff Bates on a 4-night GAC Country Music Cruise to Cozumel in the western Caribbean. They'll be kicking it off with a "Spring is Here" event on May 4th. What better time to think about a Fall Cruise than in the Spring. See the Tour page for more info.

...
This site was designated as a Fan Tribute Site of the Week by Country Stars Online for the week of March 6 - March 13.

...
Wade, backed by Rick Taylor and Randy Lanham, performed at Bricktown in Oklahoma City on Sunday, February 27th, in support of KKNG's "King Country Cares for St. Jude's." Partners in Hope, those who contributed during the KKNG Radiothon, were given tickets to the show. You can see pictures on KKNG's site at: http://www.kkng.com/
Click on KKNG Photo ALBUM, then on St. Jude's Radiothon and Concert. Each picture is linked to a larger one.

...
Wade performed at a writer's night with Greg Holland and Joy Roper on February 25th. Writer's nights are informal, intimate performances, usually with 3 or 4 songwriters, which are a fixture of the Nashville music scene. Wade and Greg were roommates when Wade first came to Nashville. Greg wrote "Hurts Don't It," a cut on Wade's second album,

. Wade demonstrated his vocal range by singing high harmony to Greg's lead vocals. In addition to

that he's penned, Wade performed some, as yet un-cut, originals: "I'm Going Crazy, Would You Like to Come, Too," "Every Time I Give the Devil a Ride, He Wants to Drive," and "I Wouldn't Know."


...
Wheel Hoss (Wade's first touring band) joined him at Judge Beans BBQ in Nashville on January 14th for a wonderful evening of great music. For the details complete with pictures head over to this page: Wade and Wheel Hoss.

...
Wade's appearance with fiddler Randy Lanham and guitarist Rick Taylor (both members of his band, Wheel Hoss) in Owensboro, KY,
was a big hit - selling out both shows. Audience members were treated to his hit songs as well as favorites from the tours - "Copperhead Road," "Milk Cow Blues," "Wichita Lineman" and some Gary Stewart standards - "Empty Glass" and "I See the Want To in Your Eyes." The event was held 12/11/2004

Home > Top of the News Archives Page > News Page