..
Appearance on Larry's Country Diner
Wade recently appeared on Larry's Country Diner show on RFD-TV. Recently seen on Saturday, September 5th and Sunday September 6th, it will re-air on Saturday, January 30th (10 pm CT) and Sunday January 31st (6pm CT). Thanks to Treasa Brookman for the photos.
---
..
A Very Busy Week-end in St. Louis with the Colon Cancer Alliance
Wade played a benefit on Friday evening, the 27th of March. He was the surprised recipient of a special presentation.The presenter remarked, "So proud to honor Wade Hayes with the first annual Go Live Your Life award tonight. We are so grateful for his continued dedication to spreading awareness, and more importantly, spreading hope." The trophy given by the Colon Cancer Alliance read "In honor of your commitment to chasing your dreams and swinging for the fence. How fitting for him, and as an inspiration for others..
He also made appearances on a couple of television stations, as well as working with the UNDY 5K Race/Walk held on Saturday morning.

Photo Credit: Trish Fuller
---
..
The Go Live Your Life Campaign
It doesn't show on his tour page, but Wade has been busy
at many private events. Genentech, the pharmaceutical company sponsors him to speak at medical conferences and other events where hearing the story of his battle with Stage 4 colon cancer has a receptive audience. His new anthem, Go Live Your Life receives accolades. In a recent week, he's been to Arizona, New York and New Jersey. The New York visit featured his picture on the Times Square screen.
Genentech is also very active in promoting Go Live Your Life. For every iTunes download, they will contribute $1 to the Colon Cancer Alliance Blue Note Fund.
For more information go to
---
..
Wade on Country's Family Reunion TV Show
Wade is working with the Country's Family Reunion crew and cast for 2 sessions. One is a tribute to Ray Price. The other is a tribute to honky tonk music. And Wade says, "Just happens to be my kinda music!!"
Country's Family Union (CFR) is a much loved weekly show that features traditional country musicians sharing their songs and stories. The shows will air on RFD-TV on Friday evening (7 pm Central Time; re-run on Saturday at 5 am and 11 pm.Monday at 12:30) Exact date is not know.
It is truly a reunion for Wade. He toured with Tracy Lawrence. Gene Watson is one of the major influences on his music. And when Wade first came to Nashville, Johnnie Lee gave him a job as a performer at Gilley's.
DVD recordings are available for purchase. If you order before December 1, you are guaranteed to have them by Christmas.
These shows are taped over an entire day. A taping is then edited into 1 hour TV shows for the RFD-
TV network and made available for purchase in a multiple DVD set. Wade participated in two days of tapings - A Tribute to Ray Price and Honky Tonk Reunion. He felt that he might not be included on the Ray Price tribute because when it came his turn to sing "Heartache by the Numbers" his mike was off. I guess we'll know when we watch the shows. They are taking pre-orders for the DVD sets. If you order before December 1 you are assured of getting the DVDs by Christmas.
Here is order info for both albums: $119.80 plus $16.95 s/h + 136.75
You can call in an order to 800-820-5405 or send your check to
CFR Videos, P O Box 210709, Nashville, TN 37221
Currently, 11/27 - There is no information on this show - either on the RFD-TV schedule or in the Country's Family Reunion store.
---
..
Wade Hayes - Musician and Cancer Survivor
Wade tells his amazing, miraculous story of being a cancer survivor, having been diagnosed with Stage IV Colon Cancer in 2009.After several surgeries and 2 rounds of chemo, his latest blood tests and scans show that he is cancer free.
The pharmaceutical company that produced his chemo has engaged him as a representative to share his story and his song at varous professional conferences, classes and seminars. They've kept him busy. This link is to a conference recently held in Washington D.C.
Wade doesn't like singing his original cancer story song, "Is It Already Time?" He says it is "too sad."The video can be seen on Youtube. You can still downloaded it at iTunes. all returns go to the Colon Cancer Alliance.
In this You Tube video, the final song is Wade's anthem for life. The song is based on a comment by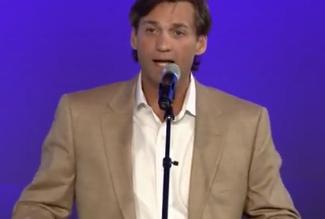 his oncologist. On the day that tests showed that Wade had moved from being a cancer victim to being a cancer survivor, Dr. Berlin advised him, "Go live your life."
Video - Wade Hayes - Musician and Cancer Survivor - Washington, DC
---
In October, Wade spoke at the
American Society of Clinical Practioners (ASCP) Conference
in Tampa, Florida
This video is also approximately 20 minutes long.
---
..
Wade was the guest speaker and entertainer at a significant event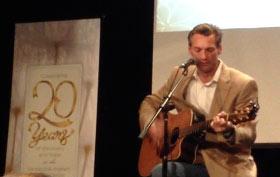 -- the 20th Anniversary of the Vanderbilt Ingram Cancer Center. Wade was introduced by his oncologist, Dr. Jordan Berlin, the lead doctor on Wade's chemotherapy team. Dr. Berlin told the crowd that he was inspired by his patients and Wade was one of the most inspiring. Plus, said Dr. Berlin, "He's so nice, I'd like to send him to Congress."
Wade played, "Is It Already Time?" his song seeking answers when he learned that he had Stage IV colon cancer. He then stepped to the podium and told the story of his cancer journey to a packed house of cancer patients and survivors, their families and friends. He closed the event with a passionate performance of his latest song, "Go Live Your Life."
---