..
A Very Busy Week-end in St. Louis with the Colon Cancer Alliance
Wade played a benefit on Friday evening, the 27th of March. He was the surprised recipient of a special presentation.The presenter remarked, "So proud to honor Wade Hayes with the first annual Go Live Your Life award tonight. We are so grateful for his continued dedication to spreading awareness, and more importantly, spreading hope." The trophy given by the Colon Cancer Alliance read "In honor of your commitment to chasing your dreams and swinging for the fence. How fitting for him, and as an inspiration for others..
He also made appearances on a couple of television stations, as well as working with the UNDY 5K Race/Walk held on Saturday morning.

Photo Credit: Trish Fuller
---
..
The Go Live Your Life Campaign
It doesn't show on his tour page, but Wade has been busy
at many private events. Genentech, the pharmaceutical company sponsors him to speak at medical conferences and other events where hearing the story of his battle with Stage 4 colon cancer has a receptive audience. His new anthem, Go Live Your Life receives accolades. In a recent week, he's been to Arizona, New York and New Jersey. The New York visit featured his picture on the Times Square screen.
Genentech is also very active in promoting Go Live Your Life. For every iTunes download, they will contribute $1 to the Colon Cancer Alliance Blue Note Fund.
For more information go to
---
..
Wade on Country's Family Reunion TV Show
Wade is working with the Country's Family Reunion crew and cast for 2 sessions. One is a tribute to Ray Price. The other is a tribute to honky tonk music. And Wade says, "Just happens to be my kinda music!!"
Country's Family Union (CFR) is a much loved weekly show that features traditional country musicians sharing their songs and stories. The shows will air on RFD-TV on Friday evening (7 pm Central Time; re-run on Saturday at 5 am and 11 pm.Monday at 12:30) Exact date is not know.
It is truly a reunion for Wade. He toured with Tracy Lawrence. Gene Watson is one of the major influences on his music. And when Wade first came to Nashville, Johnnie Lee gave him a job as a performer at Gilley's.
DVD recordings are available for purchase. If you order before December 1, you are guaranteed to have them by Christmas.
These shows are taped over an entire day. A taping is then edited into 1 hour TV shows for the RFD-
TV network and made available for purchase in a multiple DVD set. Wade participated in two days of tapings - A Tribute to Ray Price and Honky Tonk Reunion. He felt that he might not be included on the Ray Price tribute because when it came his turn to sing "Heartache by the Numbers" his mike was off. I guess we'll know when we watch the shows. They are taking pre-orders for the DVD sets. If you order before December 1 you are assured of getting the DVDs by Christmas.
Here is order info for both albums: $119.80 plus $16.95 s/h + 136.75
You can call in an order to 800-820-5405 or send your check to
CFR Videos, P O Box 210709, Nashville, TN 37221
Currently, 11/27 - There is no information on this show - either on the RFD-TV schedule or in the Country's Family Reunion store.
---
..
Wade Hayes - Musician and Cancer Survivor
Wade tells his amazing, miraculous story of being a cancer survivor, having been diagnosed with Stage IV Colon Cancer in 2009.After several surgeries and 2 rounds of chemo, his latest blood tests and scans show that he is cancer free.
The pharmaceutical company that produced his chemo has engaged him as a representative to share his story and his song at varous professional conferences, classes and seminars. They've kept him busy. This link is to a conference recently held in Washington D.C.
Wade doesn't like singing his original cancer story song, "Is It Already Time?" He says it is "too sad."The video can be seen on Youtube. You can still downloaded it at iTunes. all returns go to the Colon Cancer Alliance.
In this You Tube video, the final song is Wade's anthem for life. The song is based on a comment by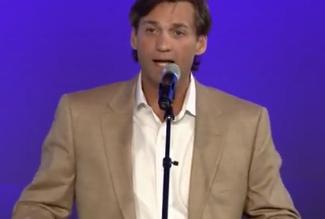 his oncologist. On the day that tests showed that Wade had moved from being a cancer victim to being a cancer survivor, Dr. Berlin advised him, "Go live your life."
Video - Wade Hayes - Musician and Cancer Survivor - Washington, DC
---
In October, Wade spoke at the
American Society of Clinical Practioners (ASCP) Conference
in Tampa, Florida
This video is also approximately 20 minutes long.
---
..
Wade was the guest speaker and entertainer at a significant event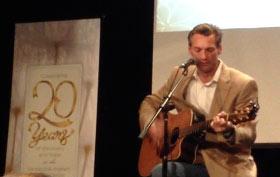 -- the 20th Anniversary of the Vanderbilt Ingram Cancer Center. Wade was introduced by his oncologist, Dr. Jordan Berlin, the lead doctor on Wade's chemotherapy team. Dr. Berlin told the crowd that he was inspired by his patients and Wade was one of the most inspiring. Plus, said Dr. Berlin, "He's so nice, I'd like to send him to Congress."
Wade played, "Is It Already Time?" his song seeking answers when he learned that he had Stage IV colon cancer. He then stepped to the podium and told the story of his cancer journey to a packed house of cancer patients and survivors, their families and friends. He closed the event with a passionate performance of his latest song, "Go Live Your Life."
---
..
Wade was a recent guest on the Coffee, Country and Cody Show
Wade recently appeared with hosts Bill Cody (Country Music OnAir Personality Hall of Fame member) and Charlie Mattos on the Coffee, Country and Cody show, broadcast from WSM-AM 650 radio in Nashville.
A podcast of the hour-long segment is now online. You can listen at:
Coffee, Country and Cody with Wade Hayes
---
..
newest single, "Is It Already Time," has been sent to radio
This deeply emotional song reveals Wade's thoughts as he waited for test results to tell him how far his colon cancer had spread.
Is It Already Time? has been sent to radio. Contact your local station and request it. It is available for download from iTunes, Amazon.com and other outlets.
All proceeds will benefit the Colon Cancer Alliance.
Several members of the Sony/Columbia records staff that fostered Wade's early career have reunited to produce, promote, publicize, market and sell his new music for this worthy cause.
For more information you can find in-depth articles at these sites:
Wade Hayes Wins Cancer Fight, Talks 'Time' Single & Rush of Support
Old Friends Come Together for Wade Hayes
---
..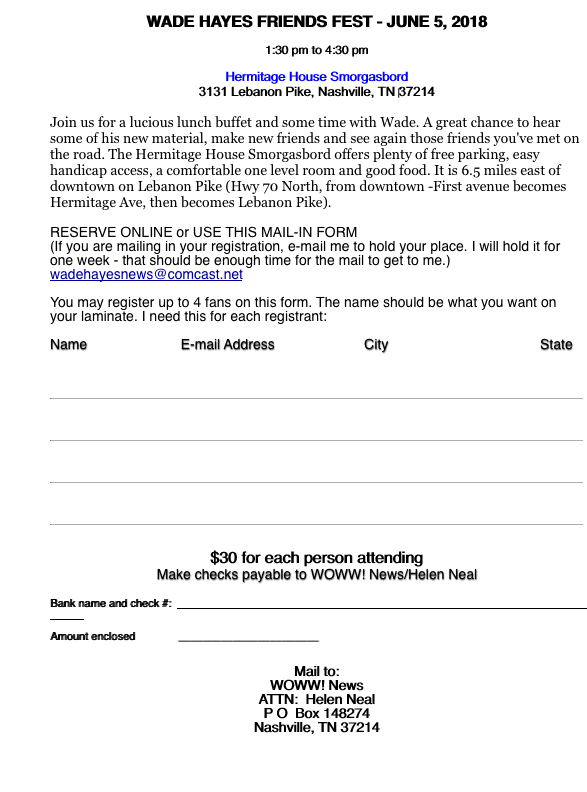 Blue Highway TV will air the The Music Row Show filmed at WSM-AM 650 studio last August 12. Check this page for the schedule. (September 18 - 30th)
---
..
Featured on 95.5 WSM-FM's "The Blog" With Ashley Mann
Wade was "buzzed" by Ashley Mann on WSM-FM 95.5 bright and early this morning, July 16th, on a segment called "The Nashville Buzz." You can catch the interview here. Ashley included more information in her blog.
---
..
Country Weekly features Wade in this issue (July 23rd). In addition to being on the cover, there is a 4 page spread, beginning on page 30.

The magazine has 2 extra features on their web site - a download of Wade's amazing song, "Is It Already Time?" - a touching chronicle of Wade's very personal thoughts when he realized he had cancer that had spread.

The magazine also provides a link to a video interview made in the studio while Wade was recording the song.

Check this page for links to the music download and the video interview.
---
..
April 16, 2012
Wade has managed to make a few public appearances despite being in treatment for Stage IV colon cancer. His first was at the March 6 Stars Go Blue Colon Cancer Alliance Benefit show at the Country Music Hall of Fame. Wade was one of the featured performers at this benefit two years ago. Ironically at the time, he had undiagnosed cancer.
This year, he'd been through eight hours of surgery and a couple of months of chemotherapy when he made his appearanceat the benefit. He came to share his story, mindful that it might help others to catch their own colon cancer problem at a much earlier stage than his.
In addition to taking a short time in the early part of the show to tell of his experiences, he returned as a featured guitarist with Exile on the finale number, Super Love.
GAC's Storme Warren interviewed him backstage at the Stars Go Blue Show for his Headline Country show. A segment of the show on 4/19 will feature the interview. The initial broadcast is April 19 (9 pm EDT; 8pm CDT) There will be some re-runs through the week-end. You may want to check your local listings.
Here is a YouTube clip that is a promotional link for the Headline Country show.
He's been very open with his discussions with the media, hoping to spread the word about early detection. His story has been in several print media outlets, as well as web pages:
In addition to the Stars Go Blue show, Wade has made a couple of appearances with Randy Owen at the Muscle Shoals to Music Row show held in Muscle Shoals, Alabama and streamed live on the internet. Wade provided guitar accompaniment and vocal back-ups on these shows. Randy's comment to Wade at the first show, "It sure is good to see you standing over there." Wade's response, "It's good to be seen." In another segment of the show, Randy asked for Wade to play his acoustic guitar as the back-up, saying, "Nobody covers me as well as you do." A high compliment on Wade's musical talents from one of country music's legends.
In the second show, Wade continued his role as back-up to Randy, but also did some outstanding guitar work backing David St. Romain.
..
The Country Music Hall of Fame is the site for this year's event, Stars Go Blue. On the evening of March 6th, Wade will join Trace Adkins and Exile to raise money for the Blue Note Fund. This fund assists those who have been diagnosed with colon cancer.
The event was created by four-time Grammy nominee, Charlie Kelley (who currently plays guitar for Jamie O'Neal) who is a colon cancer survivor. His cancer was discovered near the time that his wife, Nan Kelley (well known as a host on GAC-TV) completed her cancer treatments for lymphoma.
For more information and to purchase tickets, follow this link: Stars Go Blue

---
..
Friends and fans were shocked when it became known that Wade had been diagnosed with cancer. He endured a complex 8 hour long surgery to remove part of his colon and part of his liver. The surgeon said he got everything he wanted to get and that the procedure went better than he expected. Wade is recuperating well at home. He states that he's getting better each day and looking forward to a healthy future.
Prior to his fourth round of chem, on February 29th, Wade underwent a scan that showed he was free of tumors. No more surgery will be needed. He will continue chemotherapy through the month of June.
---
..
The Country Music Hall of Fame has a Wednesday series of programs titled Cook Out Country, an all-inclusive lunch including cookout favorites, live entertainment, autograph signings and photo opportunities. Wade was the featured artist on October 19. The program might have said "cook out," but the weather disagreed. The show was moved to a inside area, which provided an opportunity for more people to hear Wade's music. Those in the cafe and individuals walking through the main floor of the hall could experience the performance. I even watched people stop on the massive stair case that leads to the second floor lean over the rail to listen. Wade had a very good reception. Megan Mullins was along to play fiddle and contribute her alto harmonies.
Wade opened with what he termed his "warm-up" song for acoustic shows, Don't Make Me Come to Tulsa, written by Do
n Cook, Wade's friend and his first producer. He followed that with The Day That She Left Tulsa, Good Day to Go Crazy, God Made Me to Love You. He continued with Don't Stop, What I Meant to Say, On a Good Night and Old Enough to Know Better. He told the crowd that he thanked God for that song which was #1 on the charts for two weeks and he still gets a check from it every now and then. He also mentioned that he and Megan play in Randy Owen's solo band and they'd just returned from NC after doing a show for Dale Earnhardt, Jr.
---
..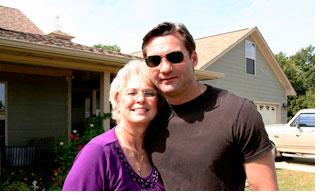 The October 4th issue of Country Weekly Magazine included a feature on a drawing of Wade that they'd received from a very extraordinary fan - you'd have to say a true life-long fan - Wade's mom, Trisha. It took a bit of conspiracy to keep the whole thing undercover and get Wade into the Country Weekly office without revealing the name of the special artist. Country Weekly photographed the moment when Wade recognized the drawing and the signature of the artist, and included it, along with interview material from Trisha, in a full-page feature.
Photos courtesy of Country Weekly Magazine