..
Yeary Chapel Series
You don't want to miss this delightful hour of acoustic music and conversation with Wade. Jimmy Yeary is a well-known songwriter with a discography that includes "I'm Gonna Love You Through it," (Martina McBride); "I Called Mama," (Tim McGraw); and "I Drive Your Truck," (Lee Brice). The Brice recording was the 47th CMA Song of the Year, as well as the 49th ACM Song of the Year.
Sonya Isaacs, Jimmy's wife and an outstanding singer-songwriter in her own right, joined Wade and Jimmy for the last half of the show. The 3 part harmonies on "Old Rugged Cross" and "I Saw the Light" will give you goose-bumps. (Also known as 'chicken skin' in Wade's Oklahoma vernacular). Wade also performed 5 songs that he had recorded. Jimmy sang the original "I Called Mom."
---
..
Vanderbilt Ingram Cancer Center has a billboard at the Nashville Airport that features Wade.
Dr. Jordan Berlin guided the team that brought Wade through Stage IV Colon Cancer. When the test numbers came back all clear, he charged Wade to "Go live your life." Wade converted those words into a masterful song. It can be downloaded at iTunes or Amazon.

In addition to the airport display, Vanderbilt added a feature story to their website, "Defining Personalized Care." Read the story here.

Picture of the billboard was taken by Wade's friend and fellow artist, Bryan White.
---
..
Wade Hayes Headlines William Shatner's Hollywood Charity Horse Show
Pictured: William Shatner, Wade Hayes and Tom Bergeron; William Shatner; Megan Mullis and Wade Hayes
For nearly 30 years, Shatner has sponsored the Hollywood Charity Horse Show to fund equine therapy for disabled/disadvantaged and special needs children. During the course of this event, millions of dollars have been raised. In addition to the horse show, Shatner hosts a live auction and dinner. Wade, along with Megan Mullins joins a list of illustrous performers who have headlined the event - Brad Paisley, Neal McCoy, Cheryl Crow and Vince Gill to name a few. Impressed by the event and the causes it supports, Wade declared, "It's really an honor and a pleasure to be here."
For Deborah Evans Price's complete article, click here
---
..
Billboard Magazine article by Deborah Evans Price that includes a link to the newly released video for "Who Saved Who" (Jack's song).
Link to the video for "Who Saved Who (Jack's Song)"
---
..
Live Stream Interview and Music by Center Stage Magazine
"Country music's power has always been in its ability to reflect real life, and few artists have a stronger gift for capturing both heartache and hope than Wade Hayes." This comment establishes the base for Center Stage Magazine's live stream interview with Wade. If you missed the original December 10 live cast, you can catch the archive on You Tube.
---
..
Deborah Evans Price Facebook post on the Bell Buckle Show
"There's something so special about watching an artist take the stage with just a guitar and hold the audience in the palm of his hand for an entire show. That happened last night in Bell Buckle, TN when Wade Hayes performed at the Concert for a Cure to benefit the Susan G. Komen Breast Cancer Foundation. Wade delivered hit after hit, including "The Day She Left Tulsa (in a Chevy,)" "Old Enough to Know Better," "I'm Still Dancing with You," and "How Do You Sleep at Night" as well as newer songs like "Go Live Your Life" and "Who Saved Who," a poignant ballad he wrote for his dog Jack that always makes me cry.
He also did my favorite Wade Hayes song "What's a Broken Heart for You," which is in my top five favorite songs EVER right up there with "Amazing Grace" and Don Henley's "The Heart of the Matter."
Wade also took requests from the crowd and in addition to his hits, sang great covers of Johnny Lee's "Looking for Love," Glen Campbell's "Wichita Lineman" and a beautiful rendition of Keith Whitley's "Kentucky Bluebird." Always love hearing Wade sing! What a great night! Plus I got to hang out with Vernell Hackett and Ellen Dyck, and got to visit with Helen Neal, Lea Bayer, J. Gregory and the queen of Bell Buckle Tori Taff!"
In addition, Deborah had a little surprise planned. She gifted Wade with a framed portrait of him with Waylon Jennings from "back in the day," as Wade would phrase it.
---
..
TEAM WADE made a good showing at the UNDY run/walk
The rain held off for the UNDY run/walk, but the humidity didn't. Still, it was a beautiful morning for the action at the greenway in Shelby Park.
Wade participated in several segments of the event, from starting the race to recognizing survivors during the closing ceremony. He also held a meet and greet before the race and was available during the morning for anyone who wanted to talk or take pictures.
TEAM WADE was strongly represented. We had the second largest team and were second in fund raising. Our main competitor is a medical office that specializes in treating colon cancer. They had over 20 team members. NEXT YEAR!
A BIG THANK you to all who participated - those who were there and those
who made donations!

Photo by Diane Moore
..
Wade's newest album, Old Country Song, is featured in Track by Track on Centerstagemag
In an intimate interview setting, in his home, Wade gives the back story for each track on his current album, Old Country Song. He reveals the inspiration and side notes for each cut. Wade draws on friends who are stellar musicians to work the project, including Kevin Key on guitar, Megan Mullins on fiddle, Dink Cook on bass and Dave McAfee on drum. The group performed "Julia" and "I Wish I Still Drank." Filmed by Tommy Lemon and Melissa Wolfenbarger, owners of Center Stage Magazine, the complete broadcast can be seen on YouTube.
Look for Track by Track.
Photo by Center Stage Mag
---
..
Bethel Acres Friends Day - 2017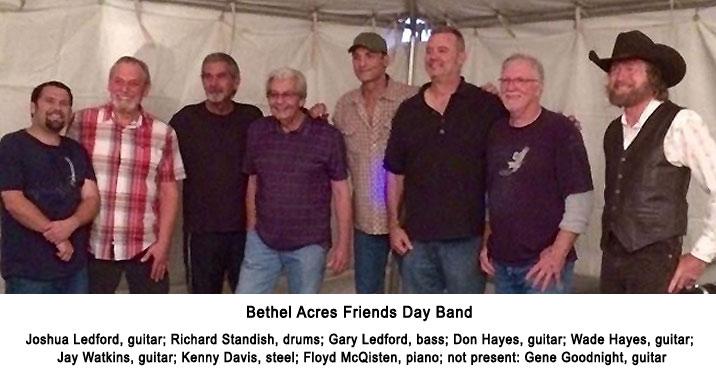 You've got to love a small town, especially one with the musical heritage of Bethel Acres!

And before the music begins, sit down to a delicious fried chicken dinner, made ready by Don and Belinda Stapp. Then move on to the pavilion.
While many sat to enjoy the music, young girls turned cartwheels in the outside grass and young boys threw footballs. And under the canopy sheltering the Bethel Acres Friends' Band, 9 stellar musicians entertained the crowd. And you realize as you watch and listen, that this band grew from the days when families made their own entertainment. Through that channel, a musical heritage was passed down. Two father-son duos on stage, Gary and Joshua Ledford and Don and Wade Hayes. Friends from Junior High and High School were among the 60 plus year olds. Incredible to take it all in. The music, ranging from Urban, Waylon, Vern, Watson, Seals, Stewart … to lots of Merle, was all crowd-pleasing. The City Council voted a new name for this first Saturday in October - it's now Don Hayes Day - a tribute to his many years of making this musical treat happen.

Looking forward to 2018!
Photo by Sandy Cochrane-Thornberry